For the past couple of months, I've had the opportunity to introduce members of the Linked Descendants Working Group of Coming to the Table to the U.S. Black Heritage Project at WikiTree.
Coming to the Table (CTTT) is a U.S. non-profit "working together to create a just and truthful society that acknowledges and seeks to heal from the racial wounds of the past, from slavery and the many forms of racism it spawned." The Linked Descendants Working Group includes CTTT members who "want to know the truth about their ancestors, discover their connections, maybe even heal a bit of the wounded past." Members descend from enslavers and enslaved and some are connected through slavery and some as family. Members discuss how to make connections including genealogical research methods, practical matters regarding communicating with potential linked descendants, and the emotional aftermath of slavery. Members descended from enslaved people are searching for their family history. Other members seek to share the information they've uncovered about enslaved people through researching their own family history. That's where the U.S. Black Heritage Project comes in.
The U.S. Black Heritage Project's mission is shown below.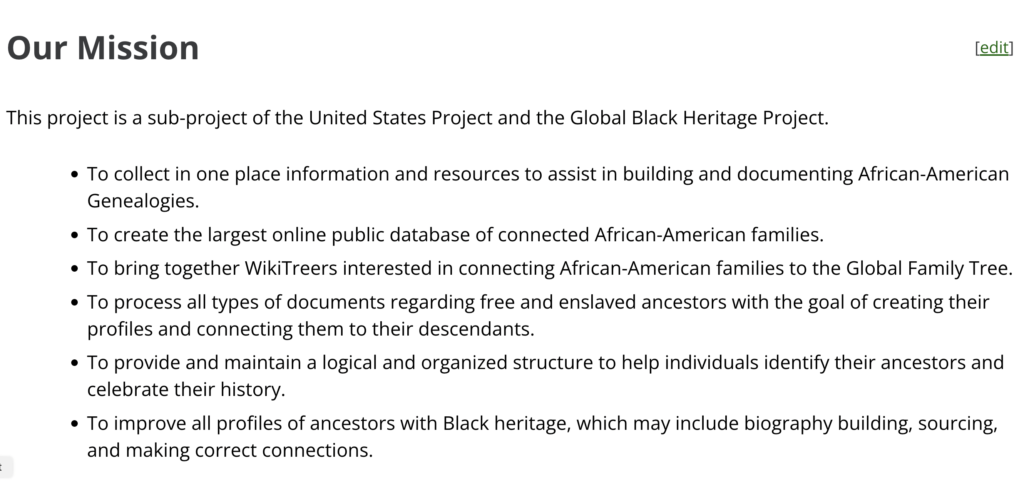 The similar interests of the two groups have provided me an opportunity to support the Linked Descendants to begin using WikiTree. Once they feel comfortable with WikiTree, they can join the many projects within the U.S. Black Heritage project (such as the Plantations Project, or the one I am involved with the Heritage Exchange Profile Improvement Team.)
If you would like to know more about using WikiTree to support your family history, including your Linked Descendant journey, I'd be happy to share resources if you contact me. An introductory video I created is available via the Virtual Genealogical Association.